Hoje decidi fazer alguns testes com o SQL Services, após instalar o Microsoft SQL Server Data Services SDK entrei na página de registro do CTP do SQL Services para obter um usuário e deparei-me com os seguintes dizeres:
This pre-release version is available at no charge, however, you will be asked to provide a credit card for identification purposes. Thank you.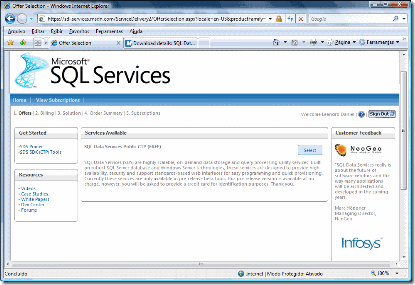 É uma pena não existir uma maneira mais simples para testar o CTP do produto, além de tudo ainda continua não disponível para pedidos aqui do Brasil. Pesquisei nos fóruns americanos do SDS vi que outros também questionaram isso.
Acabei assistindo alguns vídeos que encontrei do PDC 2008 no Channel9 que falam sobre SQL Services e matei minha curiosidade (inicial, claro).