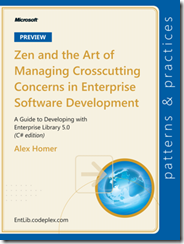 O time do patterns & practices responsável pela Enterprise Library está a todo vapor preparando a nova versão. Já é possível baixar um preview do guia Zen and the Art of Managing Crosscutting Concerns in Enterprise Software Development. Outra novidade é que a versão do Unity 2.0 também está a caminho.
No blog do Grigori Melnik tem um vídeo de quase 1 hora com um preview das novidades da Enterprise Library 5.0, vale a pena conferir.
Segundo Melnik a nova versão está levando em consideração os seguintes aspectos:
Melhor experiência para o usuário;
Fácil de usar;
Código com maior consistência;
Suporte melhorado para o estilo de desenvolvimento com DI (injeção de dependência);
Foco em testabilidade e manutenabilidade.
Particularmente, estou ansioso para ver o que a Enterprise Library 5.0 trará de útil para utilizarmos com o .NET Framework 4.0, já te temos inúmeras novidades a caminho. Vamos aguardar.